Lazzari & Barton was a monument business located across from the main entrance to Woodlawn Cemetery, Bronx, New York. They also owned a quarry in Westerly.
Lazzari and Barton–History
John B Lazzari and Horace William Barton started their partnership in 1887. They advertised as designers, architects, and builders of monuments and mausoleums working in granite, marble, and bronze. In addition to designing monuments, they carved some in their shed while contracting for others to be carved by other granite companies. They also owned a quarry near the corner of Westerly-Bradford and Pound Roads in Westerly, starting in 1891. In 1906 they incorporated as Lazzari & Barton Co. (N. Y.) with Horace W. Barton, President; Lloyd M. Perry. Secretary. Capital, $100.000, Directors: Horace W. Barton. John B. Lazzari, Lloyd M. Perry. William E. Garrett, William W. Rowe at E. 233d Woodlawn. A 1946 phone directory lists their address as 343 E 233d St, Bronx, NY, but in 1955 the company was formally dissolved in New York State
The photo of their Woodlawn location in 1894 shows a wide range of finished monuments in the front with rough stone behind. The office has two signs, while the stone cutting shed built in 1888 says Granite Works, Lazzari and Barton on its roof.
Lazzari and Barton employed 16 and 20 people in 1989 and 1900 according to the reports of the New York Factory inspectors. These likely included stone carvers, men to set the monuments in the cemeteries, as well as one or more salesmen. They were listed in business directories for New York City such as Trow's. Lazzari & Barton are listed in two specialized directories. In 1907 a Union Goods Directory lists them as one of the granite firms employing members of the Granite Cutters' International Association of America. In 1910 the Directorio Hispano-Americano y Guia de Compradores was created by Julio Acevedo with text in both Spanish and English. It lists Lazzari & Barton at 233d St for Monumentos (Monuments).
The Norwich Bulletin on September 25, 1909 reported a wreck of a freight train in South Windham CT. The 36-car train, heading to the coast, was mostly empty when it derailed. The car behind the engineand tender had a large stone weighing 47,900 pounds consigned to Lazzari and Barton from the Barre Granite Works. The fireman was injured and the rail line extensively damaged as described in the complete story. The rates charged by the railroads were a matter of contention in the monument industry. For example, the Interstate Commerce Commission found that charges by several railroads including the Central Vermont were excessive, and overcharges should be refunded to Lazzari & Barton Co and other firms (Monumental New Vol 20 p600 1908).
An appraisal of Lazzari & Barton was prepared in 1915 for probate of John B. Lazzari's will, HW Barton having died three years earlier. The company was reported to have annual (as of Oct 1) profits and losses of $7974.20 loss in 1912, $2792.30 gain in 1913, $1860.03 gain in 1914, and $6435.44 loss in 1915. Annual salaries were $3600 for the President, $2600 for Vice-President, and $1820 for the Secretary of the corporation. Sales from 1913 – 15 ranged from $63,000 to $88,000. Most interesting is the balance sheet, which describes assets and liabilities. The Woodlawn property with its building and sheds was the major asset of the company, but also had a substantial mortgage. Other assets were machinery, derricks, supplies for polishing and setting, as well as finished stock (e.g., butt markers, headstones, monuments), rough stock, works in progress, and photography supplies. Overall, the company was worth about $18,000.
Following the deaths of the founders, the company was run for a few years by C.J. Sperco Jr., the son of John B. Lazzari's brother-in-law, with the two widows (Anna M Lazzari, Fannie A Barton) among the directors. By 1921, management returned to professionals at the company. William W Rowe was President of the company, having previously been Vice-President, and a director since incorporation in 1906. He is listed as designer for several monuments in the copyright notices during the 1910s.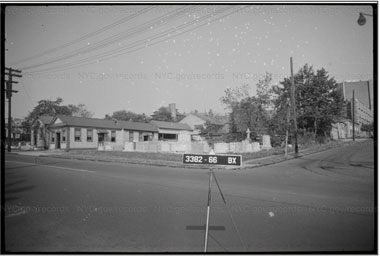 Having survived the Great Depression, Lazzari & Barton Co is shown in an official New York City tax photograph in 1940. Many finished monuments are in the yard, but there is no rough stone as seen previously indicating they no longer carved their own monuments. Advertisements in trade publications by companies, such as Rizzi Brothers and Mutch & Calder in Bare VT, featured photographs of works they had carved for Lazzari & Barton throughout its history.
Horace W Barton was President and director following incorporation in 1906. Prior to forming Lazzari & Barton, he had worked at Woodlawn Cemetery, his position described in 1881 as "in charge of lot sales" (The Cemeteries of New York and How to Reach Them, Printer: GH Burton, New York). His brother, Eugene Barton was a stonecutter at Woodlawn Cemetery listed in the city directories from 1879-1887. After partnering with Lazzari, Barton lived in Greenwich CT and commuted by rail to their works at Woodlawn, only blocks from the railroad station. It was reported that Barton "was one of the earliest of Greenwich commuters, and for 25 years he had been a daily passenger between Greenwich and Woodlawn." (Greenwich Press, 30 Aug 1912) HW Barton's son, H. Allen Barton (see photo), told his children about traveling around New England by train with his father as they visited suppliers and customers. Horace W Barton was a founding trustee of a private day school in Greenwich, Brunswick School, and a member of the Masonic Lodge and Christ Church (Episcopal). He died on August 25, 1912 at age 63.
John B. Lazzari emigrated from Italy in 1872 at about age 18 arriving first in New York City. He had been born in Arcisate, near Milan, Italy in 1853. He then spent about two years working in Westerly RI (Barre Daily Times Aug 28, 1915). On returning to New York, he worked for Felix Malnati who had a monument business across from Woodlawn Cemetery. Lazzari subsequently bought the business from Malnati. In 1881, he is listed in Trow's New York City Directory as "importer & dealer in granite and marble statuary monuments, Woodlawn" with a home in Williamsbridge.
He married Caroline Sage in 1881. She was a widow and the sister of Marie Sage the wife of Felix Malnati. They remained married until her death in 1901. He then married Anna M. Rolet and they had two children, Nathalie Caroline (1903-1925) and John Jr (1906-1989) (see photo).
Having worked in the business for several years, he formed the partnership with HW Barton 1888. Following incorporation in 1906, Lazzari was Vice-President and director of Lazzari & Barton Co. John B Lazzari became President and director following Barton's death serving until his own death on August 24, 1915 at age 61. His funeral service was at the family mausoleum in Woodlawn Cemetery.
W. Liance Cottrell was the architect for Lazzari & Barton from 1888 to about 1897. He was born in Westerly, RI on November 23, 1868 to William Henry and Rhoda Cottrell. On December 22, 1890 he married Annie L. Sutton. Upon his death in 1964 he was interred in the Cottrell mausoleum at Riverbend Cemetery. The trade publication, Granite Marble & Bronze published a story on him in 1921 (vol 31 n 2 pages 26-31). His artistic skills were noted when he was young. He worked in the draughting room at Smith Granite Company for two years before moving to New York for training at the Metropolitan Museum School of Art, the Art Student Leagues, working with practicing architects, and attending lectures by Prof. Ware who had recently founded the Architecture School at Columbia University. While working at Lazzari & Barton he was the architect of their cutting shed in 1888, the Soldier's monument in Greenwich (1890), and mausoleums as shown in their 1894 sale book. Following his time with Lazzari & Barton, he spent the rest of his career at Harrison Granite Company as their chief designer at their Fifth Avenue, New York location. He was the architect for the Pennsylvania State Memorial at Gettysburg.
Cottrell & Murray's plaster model, circa 1909.
By Doug Kerr from Albany, NY, United States – 041209 1332Uploaded by GrapedApe, CC BY-SA 2.0,
Lazzari and Barton–Woodlawn Facility
The Real Estate and Builders Guides for the period published public records of rental, construction, and purchase of the Woodlawn works of Lazzari & Barton. The growth of the Bronx is mirrored in the changing description of their location, from lots at Woodlawn, to the corner of Vireo Ave, to 233d St, to 343 E 233d St. In Sept 1888 they reported plans for a one story shed designed by L. Cottrell, their architect. In December that year, they recorded a 5-year lease for the site for $600. Other alterations to buildings are reported until in February 1911, they purchased the site with the 1 story office and the building for stonework and procured a mortgage.
In 1879, John B Lazzari worked for Felix Malnati's works at the corner of Grand Avenue and First Street, one of three stone works across from Woodlawn Cemetery. Horace W Barton worked in the cemetery office building south of Grand Avenue next to the main entrance. The railroad bounded the eastern edge of the cemetery as shown on the map by G.W. Bromley and Co.
The buildings at the Lazzari & Barton works are shown on plate 39 of the 1893 G.W. Bromley and Co. maps of New York. While the earlier street names (Grand Avenue and First Street) are shown in parentheses, the current names are Eastchester Street and Vireo Street. The Bronx River separates the Bronx from Westchester County to the east, though a few years later land across the river would be annexed.
On the 1911 G.W. Bromley and Co map, the buildings at the corner of E233rd and Vireo St are now shown with the Lazzari & Barton Co. name. Next door on E233rd St is Peter Roemer Florist and the Woodlawn Cemetery Company.
The 1914 Sanborn Co insurance map indicates the activities occurring in buildings. At the corner of E233 and Vireo, the office of Lazzari & Barton is shown at 343 E233 St. Their stone cutting shed is indicated in the building perpendicular to Vireo St., which would be the building shown in the 1894 photograph with the words Granite Works on the roof. A 30 HP Crude Oil Engine is shown in the corner building. Next door at 341 E233 St, the monument works has a stone cutting shed and a farrier shop for shoeing horses. Several other stone cutting sheds, offices, florists, and greenhouses are shown on the map.
Two years after the legal closing of Lazzari & Barton Co, the G.W. Bromley and Co map shows a gas station at the corner of E233 St and Vireo St.
Lazzari and Barton–Westerly Quarry
Not much is known about the quarry near the intersections of Westerly Bradford and Pound Roads, which is shown on the 1895 map of Westerly (New Topographical Atlas of Surveys Southern Rhode Island Comprising the Counties of Newport, Bristol, Kent and Washington, Everts & Richards (publisher), Philadelphia, 1895). In their 1894 sales book – Monuments, Mausoleums, and Memorials with Illustration and Suggestions – Lazzari & Barton enthusiastically indicate:
We own large quarries at Westerly, R.I. producing the fine grained, light gray or white Westerly and the pink Westerly granite. Westerly granite is celebrated all over the country as the only stone that fine carving and statuary work can properly be executed in. An inspection of the finished stone and comparison with other materials, we think, will convince any one of its superiority for fine work. We have desirable arrangements with all the best quarries in the Eastern States to obtain any stone the purchaser may select.
A brief newspaper story on March 29, 1894 in The Chronicle (Mount Vernon, NY) says "Lazzari & Barton will erect a mammoth derrick in their quarry next week".
Property records report about 5 acres were purchased for $1000 in October 1891 from Gorton P. Cottrell and A. Elizabeth Cottrell. Gorton and his father, George W., are shown on the 1895 map as having property just to the north of the Lazzari & Barton quarry. Lazzari & Barton obtained a mortgage for $700 at 6% interest from the Cottrells (see picture of original handwritten page), which was paid off and released in June 1892 (perpendicular box on original page). It seems likely that their architect, W. Liance Cottrell, played a role in this acquisition as Gorton P. Cottrell was his cousin. In addition to purchasing land for quarrying, an agreement was signed giving Lazzari & Barton the "…right & privilege of dumping dirt & refuse stone accumulated by the said parties …in the prosecution of the business of quarrying stone … on to certain swamp land … lying South easterly of said lot…" in return for $1.
The assessed value of the quarry and taxes due on it are reported in the Westerly Tax Book from 1891 – 1956, though likely the quarry had ceased operating years earlier. The land changed ownership after the company ceased to exist in 1955 and was recombined with property described in records as the Russell Cottrell farm except for the portion sold to Lazzari & Barton.
The location of the quarry site is described in the mortgage as "…said A. Elizabeth Cottrell & Gorton P. Cottrell their heirs & assigns forever a certain tract or parcel of land lying & being in said town of Westerly, bounded on the South by land of George W. Cottrell & on the other three sides by land of these grantees, the Southwest corner of said lot begins at lands of said Geo. W. Cottrell extending along a post & rail fence as it now stands in an Easterly direction part way across said lot thence in a straight line to a stone wall, thence by & with said stone wall in a Northwesterly direction to the intersection of said rail fence, thence along said rail fence in a Westerly direction to the corner of said fence, then in a Northerly direction to within one hundred feet of the said stone wall thence in a Westerly direction in a line parallel with the stone wall to another stone wall bounding said lot on the West side, thence along said last mentioned stone wall in a Southerly direction to land of said George W. Cottrell, thence along the stone wall bounding land of said George W. Cottrell & the herein described lot to point of beginning." (The description in the deed is similar but some compass directions are reversed.).
After the deed, a plan is shown of a "lot sold by A. Elizabeth Cottrell & Gorton P. Cottrell to Lazzari & Barton, made by James M. Collins. C.E. Westerly R.I." This plan indicates the lengths of the sides and notes stone walls. Based upon this information and the current property records, the approximate location of the Lazzari & Barton is shown in red drawn on the Westerly GIS map. There appear to be one or two quarry holes, now filled with water, when looking at aerial pictures of this area.
Lazzari and Barton– Monuments
Statues
Lazzari & Barton erected three public statues and bid on at least one more,
In Washington Square Park, New York City, a bronze statue of Giuseppe Garibaldi stands on a granite base. It was dedicated in 1888 after being erected by Lazzari & Barton, working with Giovanni Turini, the sculptor. The original design had three statues, two people on either side of Garibaldi, but due to cost over runs only the central figure was completed. It was cast by Henri Bonnard Bronze Co in New York. According to a story published on June 15, 1887 in the Herkimer Democrat, a new base was designed due to the change to a single figure and the contract was given to G. Lazzari to be made from Clark's Island granite. Other sources indicate it is blue Westerly granite, so the stone source is uncertain.
In 1889, Lazzari & Barton submitted an unsuccessful bid for the competition for the Rensselaer County Soldiers and Sailors Monument.
The civil war monument in Greenwich CT was dedicated on October 22, 1890. WL Cottrell was the architect and E.F. Patti the sculptor for the granite statue of a flag bearer on a granite base with text on each of the four sides. It is pictured in the 1894 sales book. The name of the company is carved into the base.
In Mount Vernon NY, Lazzari & Barton won the competition to erect a bronze soldier statue on a base constructed of granite from Barre, VT and other stone as reported in the local newspaper, The Chronical, on Sept 28, 1890. The story contains the contract for the work, which specifies Ames Manufacturing Company of Chicopee MA as the foundry for the bronze statue.
Monuments
Lazzari & Barton were responsible for over 100 mausoleums and memorials at Woodlawn and other cemeteries. They published a sales book, titled "Monuments, Mausoleums, and Memorials with Illustrations and Suggestions" in 1894 (Yale University Library), with copyrights for additional books listed in 1898 and 1902-4. A brief story in Monumental News in 1908 praises the quality of the book they issued that year; their advertisements included offers of these illustrated sales books.
Records for the designs of monuments at Woodlawn Cemetery have been transferred to the Avery Architectural and Fine Arts Library at Columbia University in New York City. These records provide information on many mausoleums and memorials erected by Lazzari & Barton, with an index online.
Monuments identified as Westerly Granite
Clementine – oval sarcophagus, Woodlawn Cemetery, Westerly Granite, erected for Mr. Wm H Rudkin. Their advertisement in the publication of Minutes of the One Hundred and Second Session of the New York Conference of the Methodist Episcopal Church (1901) notes this is Westerly granite. It was also illustrated in their 1894 sale book
Samuel W Andrews, Woodlawn Cemetery, 1899. Writing to Monumental News in 1908 (vol 20, p 74), Lazzari & Barton indicated this was "fine swamp Westerly granite" and protested the use of their design for another monument illustrated earlier in the trade publication.
Dr. James B Reynolds Mausoleum, Woodlawn Cemetery. The picture from Park and Cemetery, June 1910 (Vol 20 number 4) was titled "At the junction of two drives, Woodlawn, Cemetery, New York." Accompanying text says "The mausoleum that emerges at the left belongs to the James B. Reynolds estate. It was built of pink Westerly granite by Lazzari & Barton and cost $5,000." Dr. Reynolds was assistant Surgeon of the 71st Regiment G.S.N.Y and participated in the first and second battles of Bull Run.
https://www.findagrave.com/memorial/90941388/james-banks-reynolds